Our clients choose us because they are more than a number and treated like so. Our un-rivaled customer service and feature rich software draws our clients in, but our people keep them here. We build strong relationships with our clients and partners. Partnering with us means working with real people who guide you through our award winning software successfully. Let us do our job so that you can focus on yours, while saving you time and peace of mind.
What We're MADE
OF
CUSTOMER SERVICE PROS
Customer Service is what we live for. When you're happy, we're happy. Each client is provided with a dedicated account manager, who integrates with your organization. Your Payroll Partners support team never stops working hard for you. We approach each task proactively with an improvement mindset.
PAYROLL GURUS
We are payroll gurus – committed to working closely with our tax and compliance departments in order to stay up to date and in the know on all things payroll. Our professional association memberships allow us access to the latest information, ensuring you are always in compliance.
PROJECT WARRIORS
Whether you're in implementation or have a special project, our team is here to ensure deliverables are met. We meet with you to understand your needs, map out objectives and establish milestones. We have a shared goal… your success!
TAX EXTRAORDINAIRES
Payroll Partners services clients nationwide. We have a deep knowledge of all levels of regulation, including federal, state, and local laws for workers comp and payroll taxes. We take care of your payroll, tax calculations, and filings. If ever there is an issue or concern, we have the relationships with various tax entities to allow for a partnership in problem resolution.
SOLUTION MASTERMINDS
We prioritize your company goals and objectives to develop solutions tailored to your needs. As you grow or things change, we have the technology to support you and assist in making your processes scalable while reducing costs and redundancies. We monitor your account and make recommendations to save you invaluable internal resources.
HR TECHNOLOGY EXPERTS
Our technology helps you streamline processes, create cross-department unity, provide visibility, and increase employee engagement. Our team knows how to push just the right buttons in the system to make your workflows come to life! We understand HR actions, typical workflows and functional best practices. Let us help you become the superstar of your organization!
Join Our Team
What We
LIVE

BY

At Payroll Partners our Employees are Our Greatest Asset. For us, excellent customer service is in our DNA – you could even call us Customer Fanatics. We are Committed to Supporting our Community and we strive to make it a better place for all.

We honor our obligations to both our external and internal stakeholders.
We approach every day as a Team with a Proactive Mindset to resolving questions before they become issues. We believe in making things right if there is a problem, and learning from our shortcomings to Improve Everyday!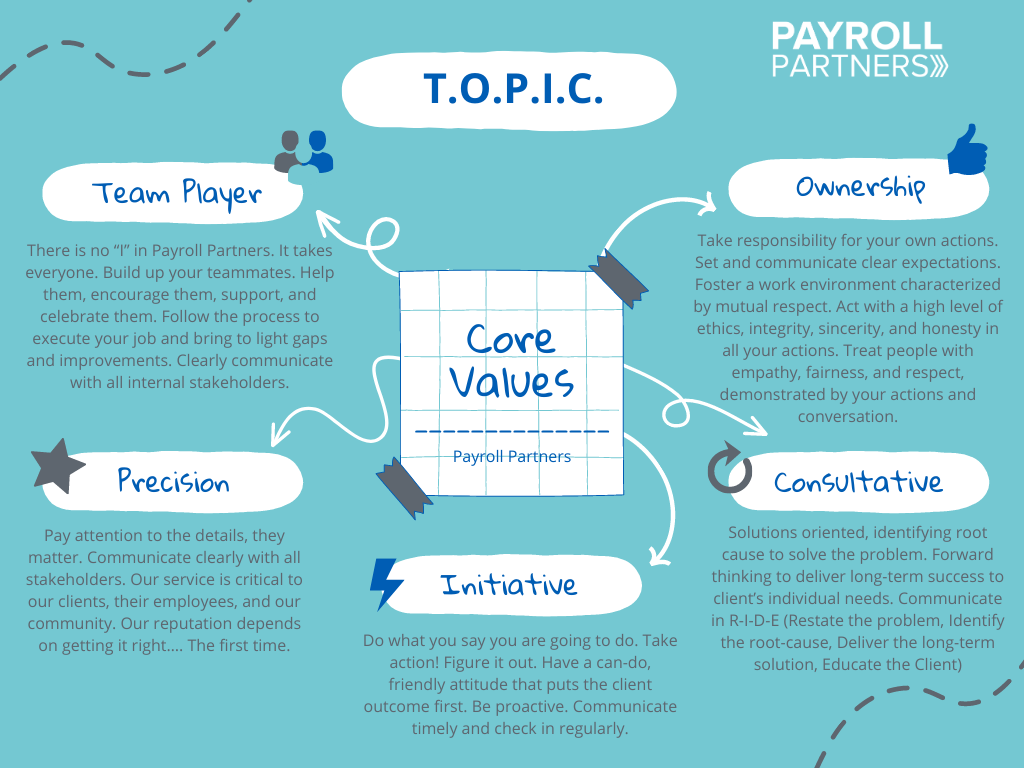 We Are CUSTOMER FANATICS
"Simply put, Payroll Partners is a pleasure to do business with. In this fast-paced world where time equals money, Payroll Partners has definitely saved me both. I appreciate their service, reliability and expertise. Their customer service is like no other and are a pleasure to work with."
– Tracy Gallenstein, 3GsLiquor

LET US BECOME FANATICS ABOUT YOU